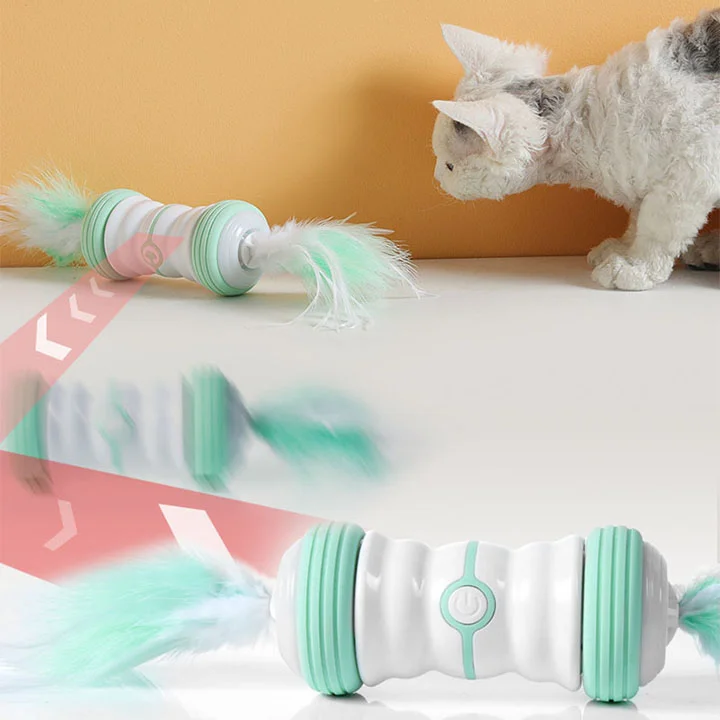 Keep your cats active & entertained!
The furious feather toy is the ultimate toy for keeping your cats physically active & mentally stimulated! Once turned on, it rolls around the room randomly and spins in place unpredictably to engage your cat's hunting instincts.
Is your cat (or dog) constantly disturbing you while you're busy at work from home? If you're looking for the perfect pet toy to distract and entertain your pet while you're busy, look no further than the Magic Cat Toy!
The Magic Cat Toy is a smart robot with rollers that play with your cat (or dog) by rolling and spinning.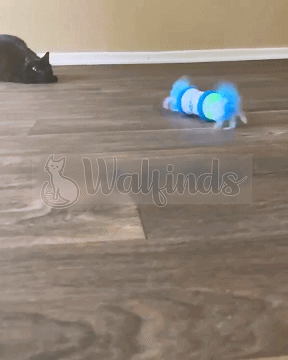 STIMULATE YOUR CAT'S HUNTING INSTINCTS:
The Magic Cat Toy comes with 4 replaceable feathers as well as colorful LED lights, this stimulus will pique your cat's interest.
The Magic Cat Toy spins and rotates randomly and reverses when it bumps into a wall, your cat s hunting instincts will be roused to chase and hunt.
INTELLIGENT SHUTDOWN & QUIET:
Most cats get frightened and cautious by loud sounds, the Magic Cat Toy does not have noisy moving parts, it spins and rotates quietly which provides your cat the right amount of stimuli to want to engage with it.
Cats can get easily bored after too much activity, the Magic Cat Toy automatically shuts down after 30 minutes to allow your cat to rest.
TWO SPEED MODES & USB RECHARGEABLE:
The Magic Cat Toy comes with two different speed modes to vary to engagement for your cat, whichever speed, your cat will still love it!
The Magic Cat Toy is USB-rechargeable hence you can save the hassle of replacing batteries - charging it for 1 hour allows for 3 hours of use.
PURRFECT GIFT FOR YOUR FURRY FRIEND:
Your furry friend will absolutely love the Magic Cat Toy and be entertained for hours by it!t I'll be the perfect play companion for your cat!


Features
Smart movement patterns don't get stuck
Rubber bumpers to protect walls & furniture
Flashing lights for night play
Quiet, suitable for small spaces
Two replacement feather attachments included
USB charging (cable included)
Safe & durable
Note:
The charging device cannot exceed 5.0V.

Fully charge before use, especially first use.

Please keep it away from water.
Specification:
Battery : 700mAh

Charging Time:2 hrs

Working time:3-4 hrs uninterrupted
Packing including:
1XInteractive Cat Car Toy

4XFeather Accessories

1XUSB Cable

1XUser Manual