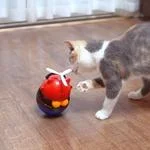 wow! 
Never seen a cat toy with six functions!
Emitting laser Attracting interest and consuming energy
Toys drop food during play Slow eating promotes cat's health
Infrared cat light, swaying, food dispensing function, turntable ball toy, etc.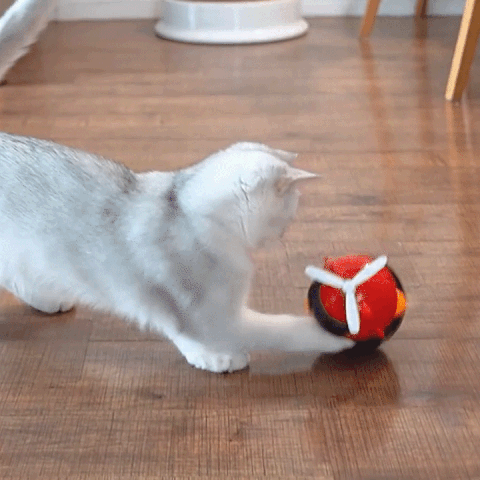 To satisfy the cat's curiosity

,

91.28%

 

of customers will buy two cat laser food dispensing toys for their pets 
Your cat will go crazy for this toy! 
[Multi-Functional Cat Toy] This product is a multi-functional electric cat toy, which integrates various functions such as infrared cat light, swaying, food dispensing function, turntable ball toy, etc. which can effectively attract cat's interest in playing.
[Interactive infrared] The product has an automatic sensor switch function. When the cat touches the toy, the toy will constantly sway irregularly. The toy's glasses position will emit infrared light to attract the cat's attention. When the toy's tops swinging, the infrared light will stop synchronously.
[Swing tumbler design] This product adopts a tumbler design . When the cat gently touches the product, it will sway irregularly back and forth without tipping over .At the same time,the top propeller will rotate freely, which makes the cat have a strong interest in the toy, and the cat likes to play with the toy.
[Food Dispensing Toys] Snacks or cat food can be put by opening the top of the toy,and the outside of the toy is provided with a dial,to control the speed of food dispensing.The dial can be adjusted in three levels,to control the speed of food dispensing,so that cat can finish eating while playing.Slowing down the speed of cat eating is more conducive to the health of the cat diet.
[Toy can be recharged] The head of the toy has a built-in polymer battery and a charging interface . When the toy's power runs out, it can be charged to the toy, which is very safe.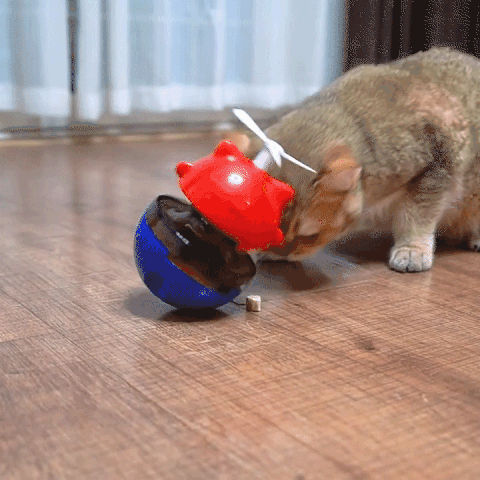 [Adjustable design of food dispensing hole] Different from other cat treat toys in the market, can adjust the size of two food dispensing holes based on your needs.
[Easy to use] This toy is made of environmentally friendly and healthy plastic, strong and durable, and will not be damaged by pets. The use process is simple, and this product can be used for a long time. This toy can be played by cats themselves, or being played by multiple cats together. Because this product will strongly increase the fun when playing. For the cat's health, it is recommended to play with this toy for 20-30 minutes each time.