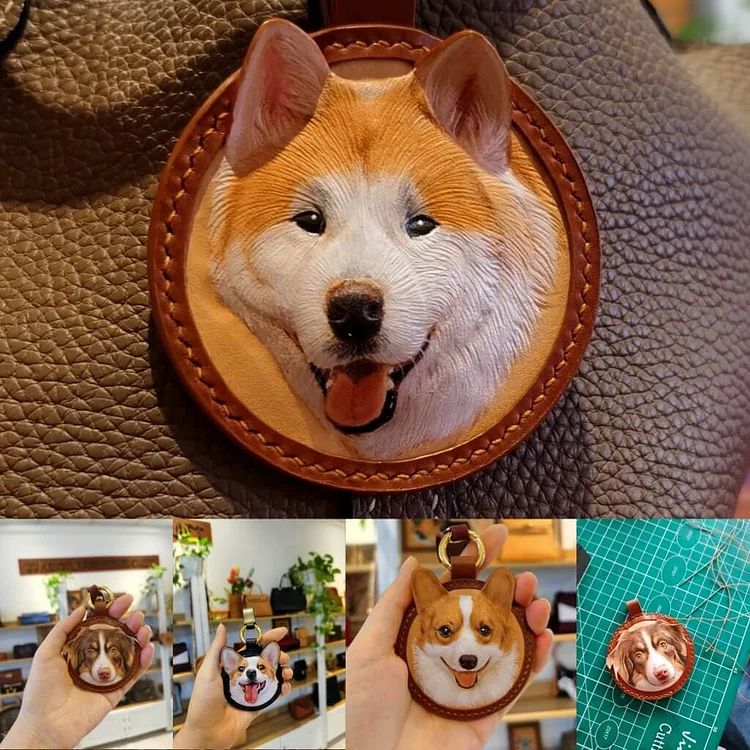 Author Message:
1. about the production, all are hand carved, hand-colored, unlike the Chinese assembly line of fast-marketing inferior products.
2. About the material, the choice is the first layer of cowhide vegetable tanned leather, if you have contact with leather, you should know that this is the finest leather.
3. About the price, is already the lowest price, please understand, this is a hand-carved artwork rather than machine-produced fast-moving products, all processes are handmade, we will do our best to integrate your love into the carving.
ENGRAVING TYPE:
Type-A and Type-A+ refers to the number of times a product needs to be pounded and carved, a leather carving we will start painting on the leather from the receipt of the photo, then press the general outline with the carving knife and hand hammer, then use the detail carving knife to carve out the details of the hair, and finally will use the colorfast dye to render the leather, and finally sanding and polishing. Generally speaking, there are two categories, one that requires about 3100 carvings and one that requires about 23000-30000 carvings, which you can understand as the number of steps of the process. Of course, there will be differences, 23000-30000 times more details, the shape will be more full, but 3100 times is also very delicate.

Customization process
Never show off. Look what I got with my works.
Tips:

1. The clearer the uploaded photo, the better, and the head area should not be blocked or cropped.

2. The leather engraver is purely hand-made to restore the similarity of the photos to the greatest extent, but there is no guarantee that they will be 100% identical.

3. Hand-made customized products do not accept returns, or change photos during production, I hope you can understand this.

4. Normally your order will be engraved in about 30 days. Since all orders are purely hand-carved, and all orders will be carved in the order in which they are placed. Please understand.