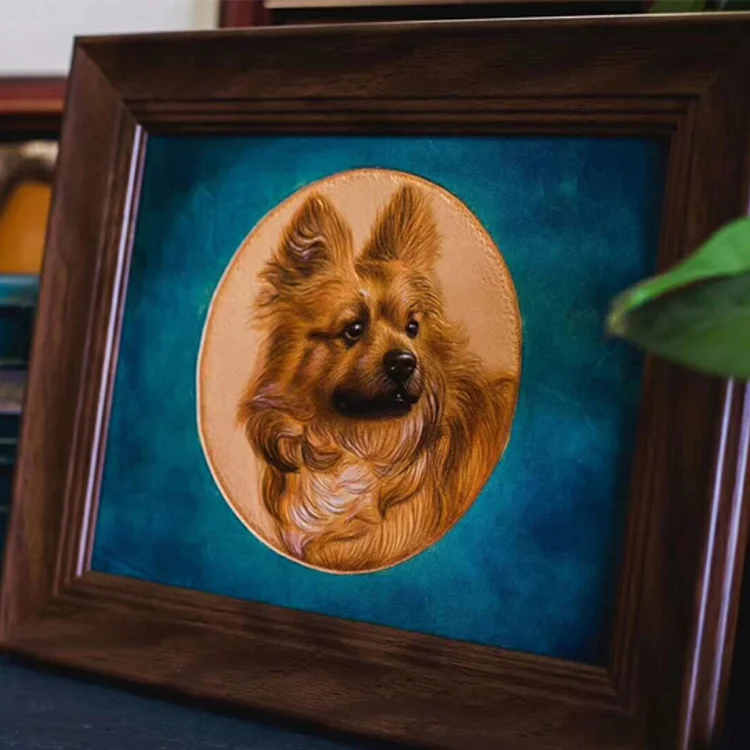 Describe:
1. This is a 3D handmade pet avatar leather carving, suitable for you to commemorate your cute pet!
2. We hand carve the outline of the portrait on genuine leather and color it with high-end dyes.
3. We need you to send at least one clear photo of your pet, the product will be made according to the photo you provide, more photos will help us to observe the details better.

Product Information:
Material: Italy imported top layer cowhide thickness 2.0mm
Process: hand-carved, dyed and stitched
Background color: The background colors of leather carving products are black and brown, if you have a favorite color, please contact customer service on time
Image requirements: clear and unobstructed

* We need 5-7 weeks to finish your order, so we can make sure to provide good quality artwork for you(Not including delivery time). please make sure that you accept it before the purchase.
Our products are all made of pure cowhide, the cowhide raw material or post-processing, as well as the transportation route, etc., under some influence, the leather will inevitably have marks, scars, insect spots, growth lines, cracks, holes, slight color and luster. Deviations, indentations, creases, and other imperfections.
The production process of leather carving leather goods is made through cutting, shoveling, carving, coloring, punching, edging, stitching and other processes, so there will also be various defects, which is also the difference between pure handmade products and machine mass-produced leather goods. Salient features.
The scratches, folds, blood tendons, insect marks, etc. of the cowhide material itself, as well as small flaws in the hand-made process, are inevitable and will not affect your daily use. Thank you for your understanding!