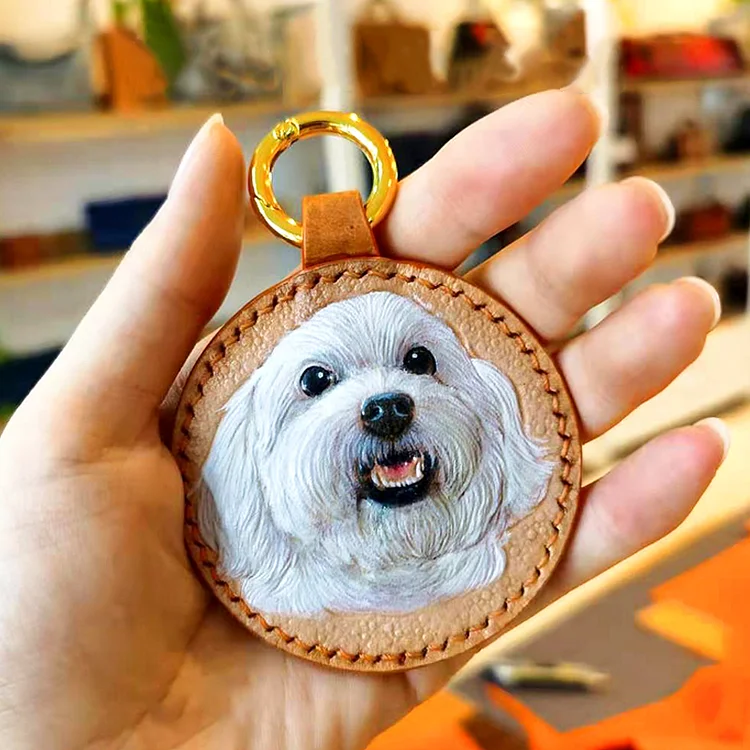 Gift this personalized keychain to your loved ones so they can show off their adorable pets to the world or remember them as a pet memorial!


All leather goods in our store are handmade leather goods used are imported the first layer of cowhide - leather carving is selected, the texture of fine and tough, not easy to deform the natural leather carving, knocking, pushing and pulling, squeezing, engaged in the creation of patterns, in the leather surface carved out of the layers of concave and convex and ornamentation.

Our personalized pet photo keychain features your pet or a loved one's pet portrait, engraved on this special personalized gift! Get the names of the pets engraved as well!

Our products are all made of pure cowhide, the cowhide raw material or post-processing, the transportation route, etc., under some influence, the leather will inevitably have marks, scars, insect spots, growth lines, cracks, holes, slight color, and luster. Deviations, indentations, creases, and other imperfections.
The production process of leather carving leather goods is made through cutting, shoveling, carving, coloring, punching, edging, stitching, and other processes, so there will also be various defects, which is also the difference between pure handmade products and machine mass-produced leather goods. Salient features.
The scratches, folds, blood tendons, insect marks, etc. of the cowhide material itself, and small flaws in the hand-made process, are inevitable and will not affect your daily use. Thank you for your understanding!

HOW TO ORDER

Upload a photo of your pet to "Upload the photos"(The uploaded photos need to be kept clear)
The name and birthday to be engraved on the back are filled in "Customized text for messages"
Notice Before Purchase

This product is purely handmade, if you buy it, time may need to wait 5-7 weeks(Not including delivery time) !!

Because this product is a purely handmade product, the order has been placed after the start of production, non-returnable!!