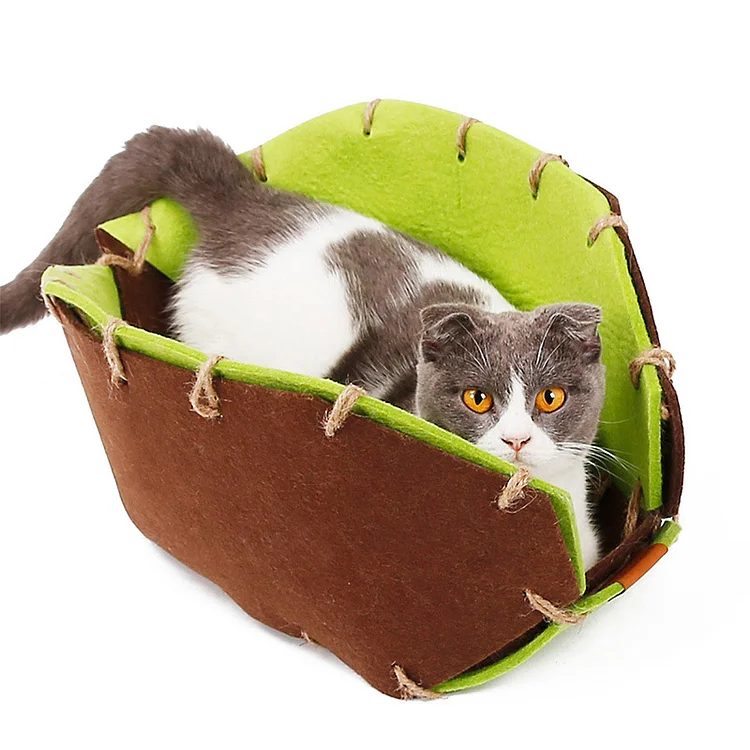 【High-Quality】 This cat cave is made of high-quality felt. So the cat bed is super soft and cozy, odorless, and easy to clean. The cat bed is completely free of chemicals and irritating compounds, so the cat cave is very safe for your cat.
【Multifunction】 This cat bed is a 2 in 1 design foldable pet cave. The cat bed can be used as a hide and seek for cats to play or as a bed to rest. At the same time, the cat cave is very cute and fashionable to use as a decoration.
【Ultra comfortable】 This cat bed is very soft and cozy. After being checked, cats really like the bed made of felt. And this cat bed is suitable for small and medium-sized cats.
【Four Seasons Universal】 This cat cave is suitable for use in four seasons. In winter, the cat kennel can protect your pet from the cold in warm and sturdy caves. Through the hemp rope, the cat bed consists of 6 pieces of felt. This design makes the cat cave sufficiently breathable. Even in the summer, your cat doesn't feel closed off.
【100% Satisfaction】 We promise you every cat house with quality and friendly customer service. If the cat bed you have received is defective or you have any problems during use, please do not hesitate to contact us. We will send you a free replacement or assist you in refunding.
Eco-friendly felt cloth, 5mm thick, universal in all seasons
Natural jute rope, strong and sturdy