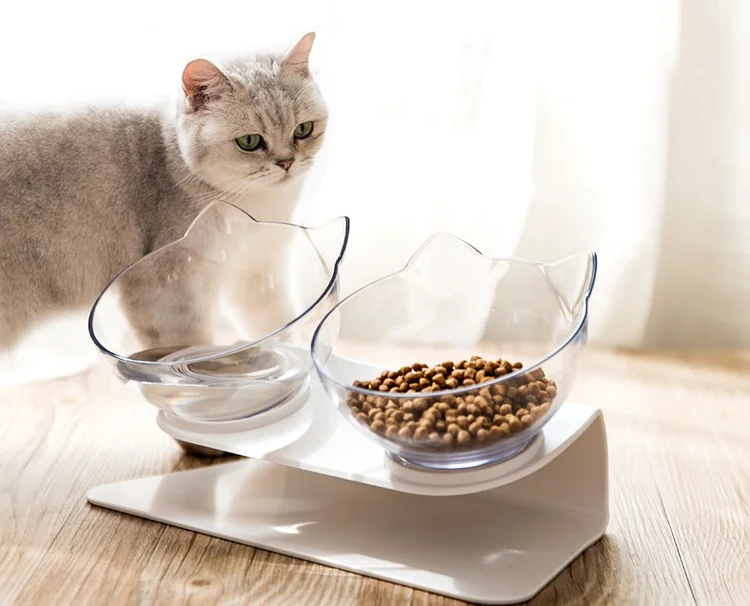 HELP YOUR CAT EAT SLOWLY AT THE PERFECT ANGLE TO AVOID VOMITING PROBLEMS
See your pets' overall health improve by just changing the way they eat! Whether it's old age or arthritis, regular bowls tend to be very uncomfortable for cats to eat out of.

Deep, hollow bowls not only add strain on their necks but also makes them want to eat too quickly, causing indigestion, vomiting, and a whole lot of pain. It puts your poor kitty under a lot of stress and may also make them disinterested in mealtime altogether. Oh no!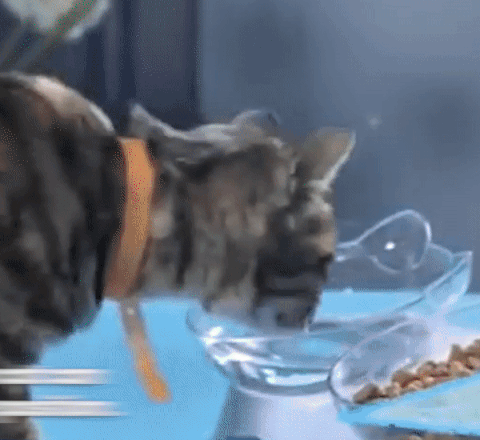 LUCKILY, THE ANTI-VOMIT BOWL EXISTS...
- This elevated, tilted, 15-degree incline bowl allows your cat to easily reach in and enjoy their food without ever facing any strain, pain, or discomfort. Just fill it up and watch your little furry friend gleam & purr with excitement.
- The safe base is anti-overturned, with a non-slip sticker at the bottom
- Large oblique rim reduces cat food dropping and is suitable for flat-faced cats
- Curved bottom makes it easy for cats to clear the bowl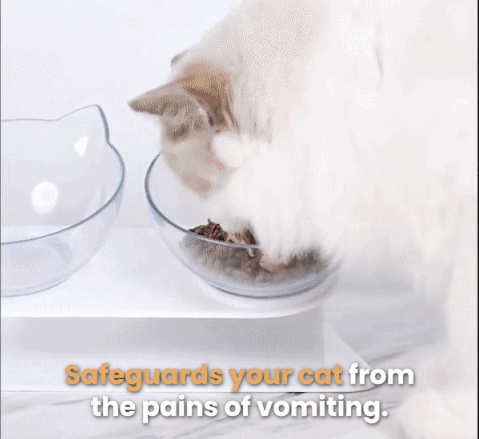 BENEFITS AND FEATURES
I
t's
BPA-free and Non-Toxic -
so don't worry if the kitty licks the bowl to the bottom!
Single or double -
Want one bowl or two? Better yet, what does kitty want? Whatever you two decide, we've got you covered.
Stand included -
You may not know it but your cat eating at an elevated position is something good for them. It helps with digestion as it opens up their airflow.
Tilted -
The bowls rest on a slope so that the kitty's food falls towards them. Their whiskers won't touch and they'll have easier access to their meals.
Non-slip -
Got a messy eater? You don't want the stand moving around on your hungry cat. This is non-slip and tip-proof, so everything stays just where it should.
Adorable -
Cats are cute all on their own, this just takes things to the next level. Get your camera ready and say "meow."

SPECIFICATIONS
Material: BPA & Toxic Free Plastic
Size:
Double: 26.5 x 13 x 8 cm

Single: 13 x 13 x 8 cm
YOUR PACKAGE INCLUDES
1 pc x Smart Orthopedic Cat Bowl
1 pc x Bowl stand
Just put your bowls in the stand, rotate it clockwise and your cats' new bowl is ready to use!
Show your cat a little love and get them something extra special. Just for them. Order yours today, and make your cats happy.