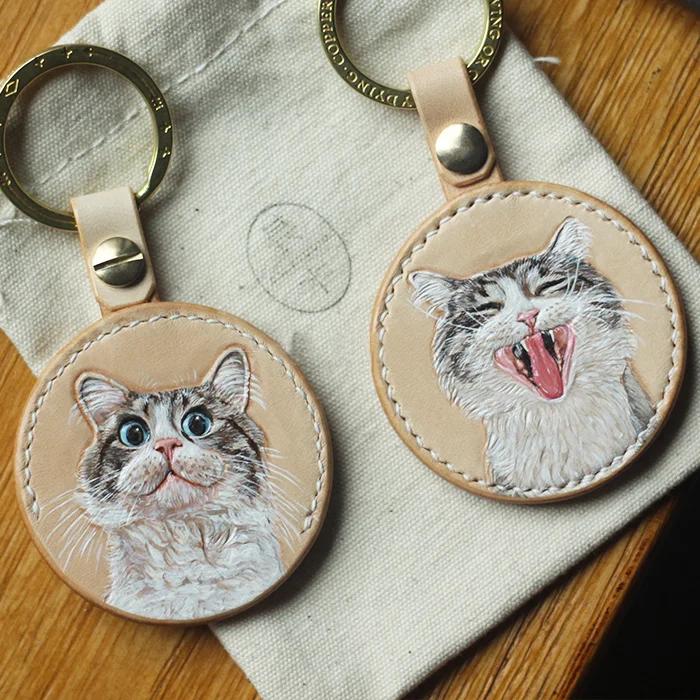 We are a group of animal lovers that want to use our skills to help you cherish your special furry loved ones, our services include Hand draw pet portraits; needle felted portrait sculptures, and leather handmade products. and more. We want to use our creativity to build beautiful memories for you and your valuable pets!

The outline of the pet is hand-carved on leather and hand-painted with colorful patterns to vividly restore the portrait of the pet. The vivid pet will accompany you. Leather carving requires very good carving techniques and painting art to make very attractive works.



Description:
1. This is a handmade leather craving key ring for your lovely pets! It is a 3D leather key ring.
2. We hand carve the contour of the portrait on real leather and use high-end dyes to paint the color.
3. We will need you to send at least one clear photo for the handmade leather craving key ring, the product will be made based on one photo and other photos will help us for better observation of details.
Size
| The diameter of the circle is 5cm, and the overall length of the keychain is 10cm
Leather
| Italian imported primary color vegetable tanned top layer cowhide
Craft: pure hand-carving, sewing
Craftsmanship:
Suture
Pure hand stitching, in order to make the work more refined. Manual stitching has the unparalleled neatness and aura of mechanical stitching, and different stitching methods will have different effects. Although manual stitching is more complicated, time-consuming, and labor-intensive. But, believe me, this is the best interpretation and interpretation of handmade leather goods.
Edge banding
As successful handmade leatherwork, fine edging is essential. And this fine edging tests not only the craftsman's skills but also the quality of the leather. So, if you buy handmade leatherwork with a fine edge, congratulations, at least it won't be too bad.


Note:
* We need 5-7 weeks to finish your order, so we can make sure to provide good quality artwork for you(Not including delivery time). please make sure that you accept it before the purchase.

* Feel free to contact us if you have any questions! You can contact us. Email: support@waltleather.com.