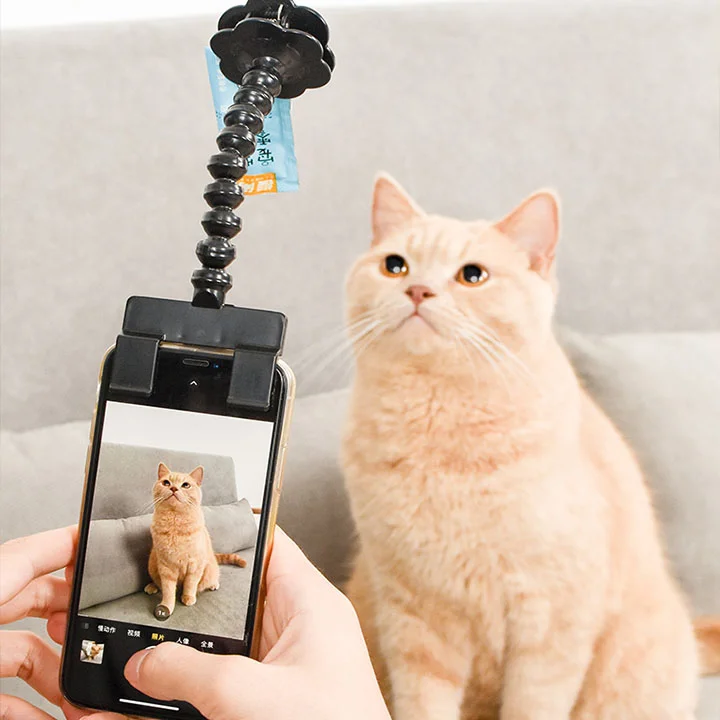 Pet Photography Aids is a universal clamp that attaches to any smartphone by just slipping it over the top of your device.
You can then just attach a treat or toy to the clamp, position it forward or backward depending on if it's a selfie shot or not, and start capturing those cute dogs or cat moments.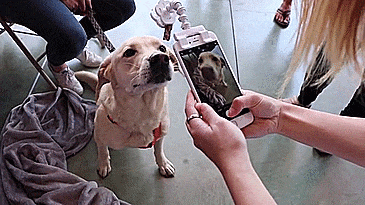 Much like me when someone brings out a bag of Cheetos, your cats' eyes will be drawn to the treatment and follow it around.
Then since your camera is right behind the treat, it will capture perfect pictures with your dog with them staring right at the camera.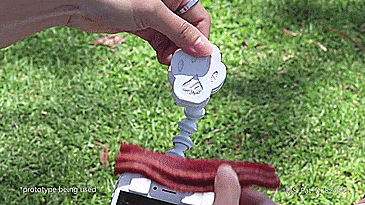 Not only does the Pet Photography Aids work with sticking cat treats into the clamp, but you can also use toys, or really whatever your cat is into (maybe your favorite shoe) to get them to stare at your smartphone.


With Pet Photography Aids, you'll be able to capture those perfect pet pictures with both of your hands focused on the camera, instead of one hand on your phone, and another trying to wrangle your cat with a treat in your hand.
Perfect for those looking to get the perfect shot of their cat looking straight into the camera! Especially for those weirdos with special Instagram accounts for their dogs!
The flexible clamp arm allows you to position the treat in any direction you'd like, whether you want your pooch looking straight at the camera, or a little left or right of the lens!
No apps are necessary, just slip the Pet Photography Aids mount right onto your camera, and you're good to go!